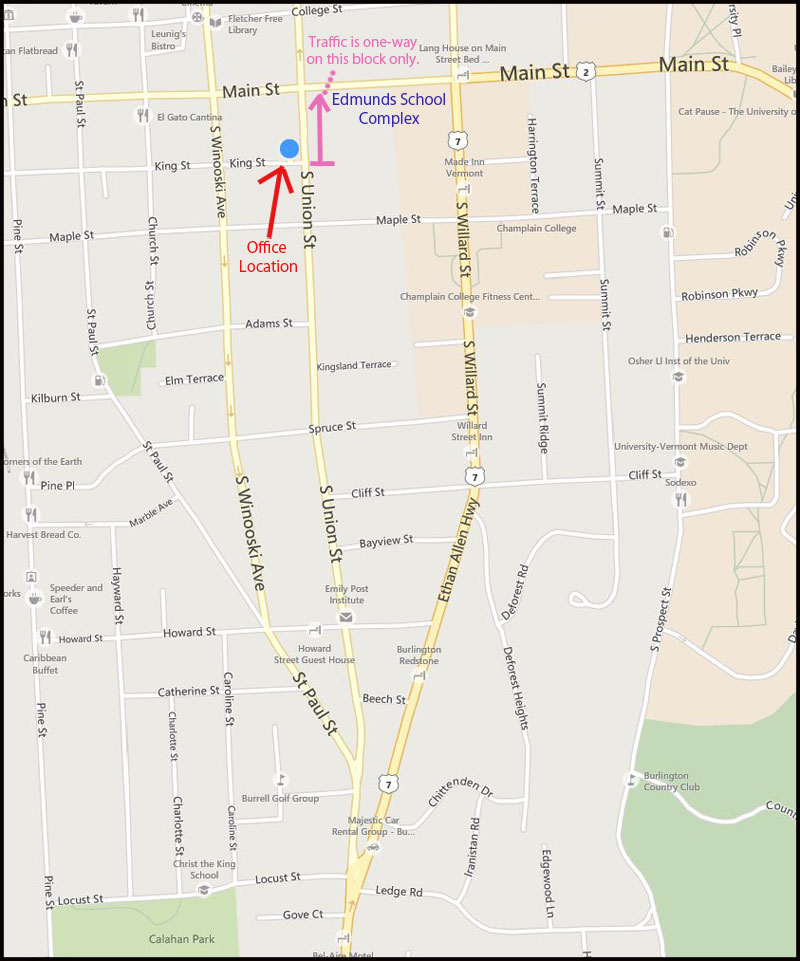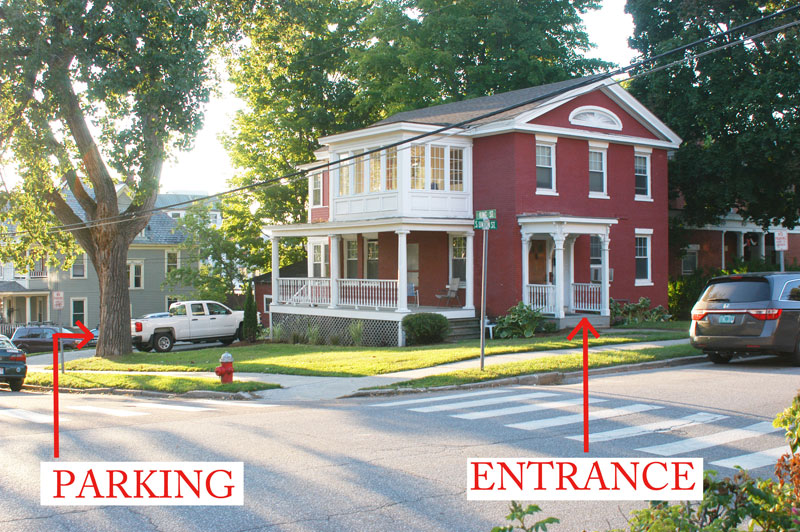 Directions to Dr. Cunningham's Office
My office is at 181 South Union St. It is at the blue circle in the map above. The segment of South Union St between my office and Main St is one-way traffic. Just this one block of South Union St is one-way. You can park in the dedicated lot on the side of the building, shown in the photo above. The parking lot is accessed via King St. Enter the office through the front door on South Union St.
Patients of mine come from all over Chittenden County as well as Addison County, Washington County, Lamoille County, Franklin County, and Grand Isle County.
Here are distances and driving times from some of the larger towns in the area to 181 South Union St, if you are looking for a doctor and you live in one of these places (arranged alphabetically).
- Charlotte Doctor: 12.6 miles, about 21 minutes.
- Colchester Doctor: 7.7 miles, about 10 minutes.
- Essex Junction Doctor: 5.2 miles, about 12 minutes.
- Hinesburg Doctor: 11.3 miles, about 20 minutes.
- Jericho Doctor: 15.1 miles, about 33 minutes.
- Milton Doctor: 17.3 miles, about 26 minutes.
- Saint Albans Doctor: 28.9 miles, about 33 minutes.
- Shelburne Doctor: 7.4 miles, about 13 minutes.
- South Burlington Doctor: 1 miles, about 3 minutes.
- Stowe Doctor: 37.5 miles, about 45 minutes.
- Waterbury Doctor: 27.6 miles, about 30 minutes.
- Warren Doctor: 46.8 miles, about 59 minutes.
- Williston Doctor: 4.1 miles, about 10 minutes.